White Van Man Edinburgh Hire
White van man Edinburgh
"White van man" the term stereotype used to describe drivers of 3.5 ton light commercial vehicles such as the Ford Transit van . Such vehicles are commonly white in colour . The stereotype represents the drivers of such vehicles as having poor driving skills and / or an aggressive and inconsiderate manner. The stereotypical "white van man" is often self-employed running a small business such as builder, carpenter, or plumbers or indeed a small removals company.
Little do most people know that there are actually decent white van men out there working hard to give customer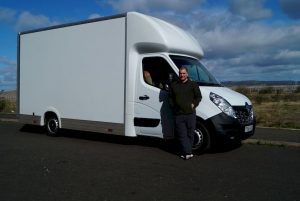 alternative transportation value for money, some small removal companies try and distance themselves from this style of business with wording that doesn't quite describe how they really operate but they are just that term they think that they are not – a man with a van. You know, the type who advertise a huge fleet of vans but actually turn up in a bog standard grubby panel van and making excuses as to why its going to take 3-4 trips to do a small move, in fact they've just ripped you off big time, the reality is there more like a white van man than they think!
Try and avoid this by asking what type of van they have how they are going to deal with extra trips if needed, will you incur a extra cost? and if so how costly this will be to you. Ask why they advertise a huge truck they just don't Have or suggest the services they offer are just not on offer and just to fleece the general public they are something they are not and never will be. Don't be fooled by the total garbage you read on various websites with so much ridiculous content, customers should have the sense to see this and its amazing how words can control someone choice.
White van man Edinburgh
Call 07730263353
---
---