Van Hire Edinburgh
Van Hire Edinburgh – Its the weekend in Edinburgh and you've just woken up and decided to make a move to move flat (Not a bit late maybe?) get the yellow pages out from under the Edinburgh takeaway menus or Thomson local and flick pages to the Van Hire Edinburgh Section. Start calling up for a van rental to move your goods you decided to move yourself some time back , aye its that easy isn't it ? Yeah, so you thought 10 minutes ago, and you're now finding renting a van isn't as easy as you expected and due to lack of planning or common sense (Sorry to say but lots of people have none) you have now got a bit of a problem. Worst still you're under 25 and no one will touch you due to insurance purposes – Big whoops!
Thing is, weekends are busy for moving home in Edinburgh and I'm afraid. Its easy to go out and buy a paper and pint of milk but Renting a van for hire Edinburgh is another story, and your just started getting it. Not everything is instant as modern life suggests and at your finger tips as much as we like to think.
One other point to consider before renting a van in Edinburgh, if you have points on your driving license or worst still no money in the bank for the deposit required for a Van hire Edinburgh its not going to happen. Sometimes deposits go over £500, or even simple stuff like having up to date ID can be an issue as well. Well Van Man removals Edinburgh is the solution to your needs, unless we are busy that is, but we always try and help people out in there hours of need. Call us as we can help you out from moving a single item like an IKEA pick up or a small move in getting chucked out at short notice emergency fast as you can been caught red handed small flat removal in Edinburgh. No nonsense quotes and service.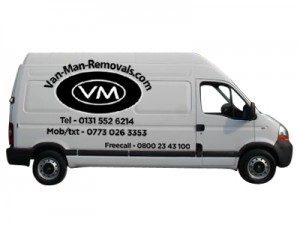 ---
---