Short notice move Edinburgh to Newcastle
Heading from Edinburgh to Newcastle for a New Life
The short distance that exists between Edinburgh and Newcastle means that this is one of the best choices of new home city for anyone leaving the Scottish capital.
At a distance of around 120 miles, you can expect to cross the border and reach Newcastle in about 2 and a half hours of driving time. There are also a number of options for an easy train ride down to the Tyneside area.
This just leaves you with the matter of your belongings to sort out when you decide to switch the Scottish capital for life in Newcastle.

Take the Easy Option
Moving to Newcastle for career reasons is an easy decision to make. This is a city which has a strong economy, moving on from its days as a ship-building powerhouse to become a modern city with the headquarters of companies such as The Sage Group, Virgin Money and Newcastle Building Society.
However, even when you decide that a move to Tyne & Wear is right for you just now, there is still the matter of how you will get there. Despite being a relatively short distance across the border it can still be a hassle to move from Edinburgh to Newcastle on your own, especially with last minute or short notice removals.
This means that the easiest option by far is to get some help by calling in our removals experts. We will make sure that you are standing on the Tyne Bridge or enjoying one of the many great shopping centres here as soon as you want to be or have to be.
Get Settled in Newcastle Quickly
Getting settled in to a new city is always one of the biggest challenges following a short notice removals move. In the case of a rapid switch from Edinburgh to Newcastle the friendliness of the locals should certainly help you to do this.
An additional help comes with the way in which a good removals service will have you in your new city quickly and without any issues. In this way, you can get settled in right away. The fact that you have all of your stuff around you from day one is another big help.
The quicker that you get settled in and the less hassle you have then the easier it will be for you to feel at home in Newcastle.

Don't Run the Risk of Financial Loss

Moving to a new city is always an expensive business, although hopefully the prospect of a bigger salary will be waiting for you down on Tyne & Wear.
Despite this, one thing you will want to avoid is the financial loss associated with damage to your goods as you move them. If you get a TV smashed during the move or lose anything then this will be a terrible way to
start your new life.
What this means is that it makes sense to hire a team of short notice removals experts to take care of everything for you in the best possible way.
Man with a van Newcastle – Newcastle removals – Van man Newcastle.

Moving to Newcastle from Edinburgh?
07730263353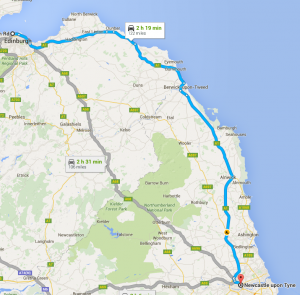 ---
---