Removals Edinburgh To Glasgow
Currently trying to solve the great issue of the "We are moving to Glasgow" conundrum. The problem is Glasgow is such a vast area, so when term is used it can potentially mean from 35 and up to 90 miles from Edinburgh but that doesn't seem to be considered by customers looking for a quote to move from Edinburgh to Glasgow.
Glasgow to Edinburgh Removals
Postcode G1 is the centre of Glasgow and G83 covers Loch Lomond, all Glasgow postcodes, but not strictly Glasgow as I know it, especially when fuel costs and time driving is taken into consideration. There is no point in giving a random removal price without knowing the mileage between collection point and delivery point.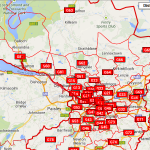 Some movers who have created this issue of customers lack of consideration for providing the full information with a lack of important questions charge under £100 to do removals Edinburgh to Glasgow ! really that's a very low cost and undervalues the whole moving business.
I've come up with the term "polarised" meaning some people have used certain movers who have done removal jobs cheaply and they expect everyone else to follow suite and be treated as badly as the rest charging those ridiculous low rates, they have just become accustomed to being quoted stupid prices hence term polarised.
So if you're moving to Glasgow to Edinburgh or other way round have a wee think about postcodes and don't just say Glasgow.
Edinburgh to Glasgow removals
---
---