Great Expectations the tale of two sides.
Great Expectations for a Domestic removal?
Expecting the movers to arrive and you have self packed and hired someone to move it all?
Whats the best practices and expectations of the customer but also taking into account, surprisingly,  the removal men also have some expectations!
Customers expectations for a booked removal is firstly for the movers to turn up on the time agreed, then a vehicle large enough to take the self assessed estimated volume of goods is parked outside capable of  carrying your goods.
The man power to do the removal job in a methodical manner without anything getting damaged, but needs to be properly packed by the customer prior to moving e.g. sealed boxes and al loose items dealt with either taped or bagged up securely. The better packed means the better stacked and less likely chance of damaging anything in transit while in the van, because unpacked unsealed goods are not the removal mens responsibility!
The most important part is the price to be the price quoted over the phone on all of the above as per information you have accurately provided. No one wants to pay more but this wont happen as you'll be super organised, it's your possessions and everyone knows what they have and nothing will be inaccurate  or amiss!
Booking price acceptable with list provided of whats to be moved.
Arrival on date and on time booked.
Size of van capable to move the goods.
Equipped van with blankets and accessories.
Manpower to deal with the job described.
Moving the stuff out and into new place with care.
The Removal mens expectations, yes, they do have some, maybe more than the customers!
Stage 1 Removal mans expectations on arrival!
No sign of another Removal van due to double booking and forgetting to remember to cancel one of them as it just wastes the movers time and costs money, yes movers try and make some!
Basic stuff like the correct address has been given, street, flat number if it's a flat, sufficient legal parking outside the property unless other wise advised, the main door entrance into the property is free from obstructions like piles of shoes,  jackets behind a door, bikes etc  or hallway like a bottleneck of boxes and stuff trying to get out the front door before the movers arrive, this area needs to be clear so the door opens fully and hallway clear to all rooms with each room ready to move in and out off easily but no one really needs to be told this as its all common sense, isn't it !
Stage 2 A general walk around clearly being advised whats being moved, no waving arm signal as instructions in a general direction of what to take in a room of mixed furniture that furniture some isn't going or advising what to move first before seeing the whole job, best point or have items marked and it and make it very clear whats being moved so the mover can decide whats best to start moving first into the van.
Boxes stacked and bags placed to the side for ease of access, furniture left in situ or moved to an area for easy access if required when packing the van, if you put loads of bags and random loose bits on top of the boxes this will need to be taken off and this takes up time.
Free movement throughout the property without stepping over bits and bobs lying on the floor bric-a-brac, children, animals etc, it's surprising what people leave on the floor during a removal, he might trip up and injury himself!
Any hall cupboards doors kept closed during the move, so no going in and out of the one behind the main door or hallway cupboard thats got something interesting in it, make sure that gas or electric meter is read once the van is loaded and not during the move so avoid issues like that when movers are going in and out and trying to get past half open doors, again common sense tells us all that.
The self assessment on goods to be moved is to be fairly accurate and everything is ready with the bases of boxes taped and secured and any loose random items bagged, plus anything large that is built up is flat packed, secured and ready to move, with minimal fuss, again no one really needs to be told this, common sense.
Ps If any neighbours come round to say goodbye please keep to one side and don't stand in the doorway chatting!
Follow these rules and you wont go wrong !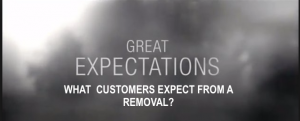 ---
---