Edinburgh to nottingham
Edinburgh to Nottingham Doesn't Have to Be a Tough Trip

Do you sometimes feel that it would be a great idea to make a big change in your life by going to live somewhere else?  This is a thought that crosses most people's mind every now and then but what if you are about to turn it into reality?
If this is the case then moving to an exciting and progressive city such as Nottingham could be just what you need. Moving from Edinburgh to Nottingham is a switch that is sure to re-invigorate you and could give you a brand new life.
Of course, there are plenty of reasons why you should trust a professional movers and packers service to do this for, just as you should if you are making the opposite trip from Nottingham to Edinburgh.
Work Opportunities in Nottingham
It is possible that you see Nottingham as offering the perfect platform for you to take your career forward. After all, this city in the Midlands is one of the UK science cities and has a big future in digital media, life sciences and low carbon technologies.
It is also has a thriving financial sector and is the headquarters of big companies such as Boots the Chemists, Experian and Pedigree food. The presence of the University of Nottingham and Nottingham Trent University also makes it a good place for students to set up home.
Culturally speaking, Nottingham is famous for its strong sporting history and is also a UNESCO city of literature. If you plan on moving here for career or study reasons then you will find that there are lots of things to occupy your free time.
Getting from Edinburgh to Nottingham Safely
Nottingham's location in the centre of England means that driving down from Edinburgh isn't a huge amount of hassle. The two cities lie roughly 260 miles apart, meaning that a drive up or down the A1 should take you around 5 hours or so.
A train trip between Nottingham and Edinburgh should take about the same length of time if you get a fairly direct route, while train journeys with more connections could take over twice as long.
This is a pleasant trip that gives you plenty of time to look forward to your new life in Nottingham but what about all of the stuff you need to take with you? You certainly don't want to buy everything again but you won't want to spend hours carrying everything back and forward to a van either.
Trust the Experts 
For a swift and trouble-free move from Edinburgh to Nottingham it is best to trust the movers and packers experts to sort out the removals van aspect on your behalf. In this way, you can get all of your possessions down to your new home without any issues at all.
By making the big switch to England in this way you can plan ahead with confidence and be sure that everything that is dear to you arrives just as safely as you do.
Van Man Nottingham to Edinburgh – Man with a van Nottingham – Edinburgh to Nottingham removals.
Call 07730263353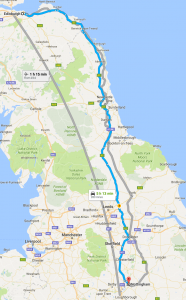 ---
---