Will a New Career Take You from Edinburgh to Birmingham
Will a New Career Take You from Edinburgh to Birmingham?
The prospect of a new life and a brighter future in a new city is something that pushes on many people to move home every single year.
In the case of a move from Edinburgh to Birmingham, this is the kind of life-changing decision that you could be thankful for having made in later years.
Birmingham is the second biggest city in the UK and enjoys a central position in the West Midlands. It may only be around 5 hours driving time away from the Scottish capital but moving down to live here is a massive decision that you will want to get right.
Economy and Jobs Markets
A strong reason for moving from Edinburgh to Birmingham is the big jobs market that you will find there. It has been a hugely important commercial and industrial centre ever since it came to worldwide prominence during the Industrial Revolution.
In modern times, the jobs market is dominated by the service industry. Jewellery, research, banking and law are some of the other notable industries here. Typhoo Tea, Brylcreem, Cadburys and Bird's Custard are among the big brands with a home in the West Midlands.
Those people who are lucky enough to have sorted out a new job in Birmingham before the day of their move can head down in relaxed frame of mind with professional movers. If you plan to do your job searching once you get there then it pays to make the move as swift and painless as you can.
In either case, you can ease the strain of the switch to a new life by getting our removals team to deal with the heavy lifting.
University Life in Birmingham
There are more further education options in Birmingham then anywhere else in the UK apart from London. The long list of universities here includes the University of Birmingham, Birmingham City University, University College Birmingham and Aston University.
For new students coming to university in Birmingham from Edinburgh it is a smart move to organise a professional movers quote. This will allow them to arrive quickly and safely without having to leave anything behind.
Upon arrival, a new student who has taken this clever approach will feel fresh and refreshed. In this condition and frame of mind they will ready to enjoy the learning opportunities here as well as the rich cultural scene in Birmingham.
Avoid Costly Mistakes
Taking into account the relatively short distance between these two cities, it is easy to see why some movers are tempted to do it all alone. After all, what is the worst that could happen?
Well, it is possible that a costly mistake could lead to a damaged television, lost clothes or some other problem that could have been easily avoided by leaving it in the hands of the home removals experts.
Moving to Birmingham – call 07730263353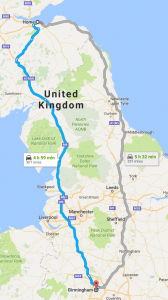 ---
---