Driver hire Edinburgh Van or car.
You rent a car or van we drive Edinburgh.
Need assistance with driving a van and/or a removal porter with skill and knowledge to help load your van rental and even drive that van or truck rental?
We can help with both, its a hassle getting quotes for moving and sometimes a bit expensive so van man removals has a solution to it all.
Ideal for you when hiring a van to transport goods or a removal.
Can drive or banned.

Not confident of driving vans.

Not confident of driving a car
Need assistance loading and a driver all in one.
Hire someone with knowledgeable.
How does the Van porter driver hire work?
Your hire the van or car if its just a driver you need, you can do this even without a driving licence from a rental agency and we can provide the driver for your job, he would have to be at the rental agency as well to produce his driving licence so you can rent the van as you pay for all this with a debit or credit card, as long as its a return trip to Edinburgh we could save you a few pounds on the extra for a full removal with a removal van max size 3.5 tons. The minimum charge is for 3 hours plus travel costs to the location of vehicle collection point in Edinburgh.
Lets work out the van driver hire costs to see if its worthwhile.
For example as job to Newcastle takes 2.5 hours to drive and lets give it an hour to move on and off so with the return trip 2.5 hrs it should cost you with the van rental for a day plus 6 hours for hiring the removal porter and driver £120 for 6 hours on top of the van rental and fuel costs you would pay.
So in effect you could potentially get a luton van that you hire for around £80 for a day plus fuel costs and add the driver £20 per hour to and from Newcastle for £250-300 much cheaper than a small removal company doing the whole job which could add another £2-300 for the same size of van.
This is ideal for you when renting a van.
Hire a van driver for £20 per hour to drive your van rental (minimum charge is 3 hours) or your own van but aren't confident to drive long trips. The minimum charge is 4 hours and maximum can be anytime plus expenses like overnight costs and meals.
Get in touch !
Call or text 07730263353.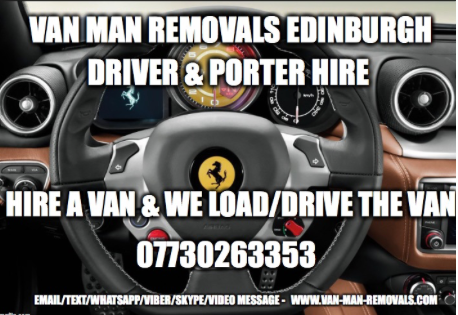 ---
---