Bed, mattress disposal Edinburgh.
Bed, Mattress Disposal Edinburgh.
Fast Bed Mattress Disposal for a Simpler Life.
Our bed mattress disposal service is perfect for getting rid of an unwanted old mattress in double quick time and with absolutely no fuss whatsoever.
Don't struggle with the task of getting rid of an old mattress when we can carry out this job and keep you free from stress all the way our prices start depending on location/floors involved from £40 for a single mattress, £70 for a double, £90 for a kingsize, £110 superking its rare anyone has a double these days and all mattresses seem to be double but are not so make sure you know the size.. 
No Effort for You
There is no effort involved in your part when you ask us to provide our bed mattress disposal services. Just get in touch with us, tell us the details and let us do the rest.
This is an ideal way of carrying out this job if you lead a busy life and simply don't have time to deal with your old bed mattress disposal. Anyway, aren't there more interesting and productive things you would like to do with your free time?
If the thought of heaving an old mattress to the local waste disposal site is getting you down then let us do it for you. We will be pleased to do so and this will let you get on with enjoying other things that you prefer to do instead.
Clear Out Some Space Quickly
Do you want your old mattress cleared out quickly to create some extra space at home in Edinburgh? If this is the case then you can count on us to meet your needs and get it done speedily.
Our rapid service is all about giving you the fast turnaround times that suit your life. Just tell us how urgent the job is and we will do our very best to get out there and do it in a way that leaves you deeply impressed.
There is certainly no longer any need to get depressed wondering when you will finally be able to get rid of your old stuff. If you need anything else cleared out at the same time as the bed mattress disposal then just tell us about it and we will deal with it all at the same time for you.
Don't Pay Over the Odds.
You definitely don't want to pay over the odds when you ask for bed mattress disposal services. This is where our low cost services come into their own, as we give you the best possible quote every single time.
Get rid of your unwanted old mattress efficiently and without spending too much on it. Get in touch with us and we will give you our best price with pleasure.
An Easy to Use Service.
Don't make things any more difficult that they have to be. If you need to sort out a bed mattress disposal then we offer an easy to use service that you will appreciate.
From the very first moment that you get in touch with us you can relax and let us sort it out. Just give us a call and then you can leave it all up to us.
Note- The private tip is now charging separate prices for disposal of mattresses so unfortunately OUR prices need to increase by around 50%. 
Bed disposal, bed removals, mattress disposal.
Call, text, whatsapp, viber 07730263353
Skype Van Man Removals Edinburgh.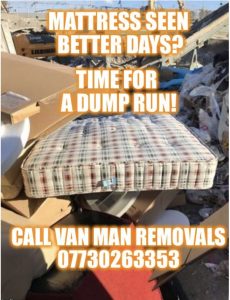 ---
---