Cheap Removals Edinburgh To Dundee
The Switch from Edinburgh to Dundee Has Never Been Easier
Edinburgh and Dundee are among the most exciting cities in Scotland for living and working in. If you want to add some extra spice to your life and boost your career then a move up North could be exactly what you need.
The slogan of the Tayside city is "One City, Many Discoveries", and there is certainly a lot to be discovered here when you get a man and van company to get you there safely.
A giant regeneration plan is underway in Dundee, making this a very exciting time to hit the M90 and A90 on the way to starting out afresh in the city of jute, jam and journalism.
Don't Make It a Stressful Move
By moving to Dundee you will open up new horizons in your life, so it pays to do it in a smart and organised way with our removals experts. There is certainly no need to get all stressed out about it if you go about it in the right way.
If you choose to travel from Edinburgh to Dundee by road or train then you can expect the 62 miles to take you between 1 and 2 hours to cover. This makes it a very nice distance for a relaxing trip on your way to the next phase in your life.
However, if you decide to travel there with all of your stuff it could quickly turn in something far less enjoyable. The hard work involved in house moves and the worries about breaking things could leave you starting off life in Dundee in the worst possible way. A far better idea is to let the man and van people who do this kind of thing for a living take care of it all for you.
Get Ready for a New Job in Dundee
The jobs market in Dundee is now vibrant and a lot more modern than you might think. Among the main employers in the city are the NHS, the local council, the University of Dundee and BT.
Rather than spend your first couple of days sweating under a pile of furniture and then suffering from aching limbs, you can let our experienced home removals team do it all for you.
In this way, you will be fresh and ready to either start your new job or to go job-hunting from day one. This might not sound like a big deal but it could really help you to get up and running in your new home without any hitches.
Enjoy a Fantastic New City
No matter what your reasons are for heading up to Dundee from Edinburgh, you will want to make the most of the place that you are now going to call home.
A simple and effective way of doing this is to make your journey there as relaxing as you can. It isn't a long way from Edinburgh to Dundee with a man and van but you will burn up a lot of nervous energy if you travel there in a way that doesn't suit you. On the other hand, if you arrange the removals service with us you can rest assured that you will be ready to enjoy a fantastic new city right from the moment you first get there.
Van Man Removals 07730263353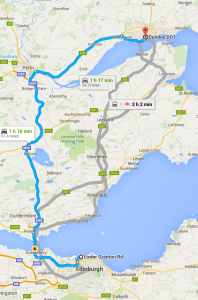 ---
---