Cheap man and Van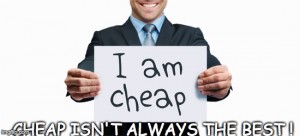 Finding a good man and van
How do you find a good man and van, well its a minefield finding someone to trust to even turn up to a job especially if found on gumtree,
Main thing is does this cheap man and van use a name or is it all blank with no idea who your speaking to? does this man and van sound too cheap, anyone advertising jobs ranging from £10-20 should be avoided at all costs, even if your trying to save money, when you take into account costs of a van and making some kind of wage, these prices would be well below minimum wage after costs taken off, and its a high risk using anyone charging these low man with a van prices in Edinburgh.
Customers telling the man and van the removal job only take 30 mins to do the job wouldn't even justify the costs of £10-£20, he's got to take into account travelling to the job and that might be more time driving to it than doing the job.
Do a wee bit of research before you book anyone, it might sound cheap and you think it's a simple job but that simple easy job might not be as simple when no one turn up and your left stranded and suddenly its turns into a situation that could be avoiding to pay a few pounds more for a professional small mover in Edinburgh.
Cheap man and van services isn't always the best !
Not the cheapest nor the most expensive in Edinburgh.
Give us a call 07730263353
---
---