Take the Right Road from Edinburgh to Leeds
Take the Right Road from Edinburgh to Leeds.
The 220 or so miles that separate Edinburgh from Leeds could be all that you need to travel to start an exciting new phase in your life and career.
The thriving West Yorkshire city of Leeds is a fine destination for anyone looking to make a fresh start in a welcoming place to live.
Why Move to Leeds?
There are a great many reasons for considering a move from Edinburgh to Leeds just now. For a start, the economy is currently strong in this gamma world city. It has certainly come a long way since it came to prominence as a mill town.
These days, Leeds is home to a booming legal industry, as well as plenty of finance and insurance companies. Currently, there are more than 30 banks with major offices here.
The employment situation is pretty diverse in this city in the North of England. Among the big businesses with a strong presence here are ASDA, Leeds Building Society, William Hill and the BT Group.
If you want to make the 4 hour road journey from Edinburgh to Leeds for career reasons then it makes perfect sense to arrange the removals service in the best possible way. A swift and painless move with a professional moving service will help you to arrive in a good frame of mind and ready to push your career forwards in West Yorkshire. Of course, the same applies to those Leeds residents who are tempted to try life in the beautiful Scottish capital.
Studying in West Yorkshire
Leeds is also a popular destination with students who want a good university and a stimulating place to live. There are several universities here, with the University of Leeds and Leeds Beckett University among them.
As with those people who are making the move to Leeds from Edinburgh for work purposes, it is worth bearing in mind that doing it all alone can be a huge hassle. By trusting the moving service experts with your stuff you can expect a far simpler move.
Moving Back to Edinburgh
Another situation worth considering is when someone has enjoyed life in Leeds for a few years and is now heading back to Edinburgh.
This is sure to be a bitter-sweet moment in anyone's life but it is well worth planning it properly to help everything go smoothly when the day of the move arrives.
Simply put, slogging back up the A1 with all of your stuff in tow makes for a tiring and potentially troublesome way to get back to your home city. Instead, you should let our flat removals team take the strain and get you back to Edinburgh in style.
No matter which direction you are moving in, the trip between Edinburgh and Leeds is a lot safer and smoother when you give the tough moving service jobs of packing and lifting to people who are there to help you out.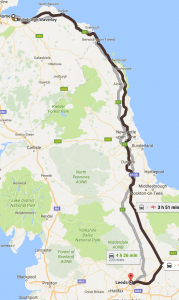 ---
---