Fife removals man and van you can trust!
Fife Removals That You Can Trust
Moving home to another part of Fife or to somewhere else is the kind of thing that can get un-necessarily complicated if you try to do it all on your own. Yet, by giving our service for Fife removals a try you can make life a lot easier for yourself.
We offer a full service that you can use whether you are staying in Dunfermline, dalgety bay, kinross or moving from Kirkcaldy to Cupar. Don't worry if you need a removal van take you from Leven or Glenrothes to somewhere else in the country, as we can handle that effortlessly too.
A Service That Earns Your Trust
We understand that everyone wants to find a home removals service that they can trust in fife to look after them every step of the way. Therefore, one of our main aims is to win your trust right from the very start of the process.
We do this by offering a fully professional and transparent man and van service and by clearly answering any questions you may have. Our commitment to making your home move as easy as possible is equally matched by our desire to put your mind completely at ease all the way.
Don't take a chance of a less than reputable outfit handling your Fife removals. Let us win your trust and allow you to plan the move with confidence. You won't regret turning to the experts at this crucial time in your plans for the future.
A Fair and Reasonable Price
Another way that we can win the trust of our potential customers is by offering them a fair and reasonable price for our services. You obviously don't want to pay too much for your Fife removals service but you should also be wary of anyone who offers you this kind of service at a price that seems too low to be true.
Once you get in touch with our friendly team you will be immediately impressed by the good value quote that we offer. However, it is worth pointing out that we won't charge a price that is too low to be realistic or that means cutting corners in our service.
It doesn't matter whether you are making a short trip across Fife or heading down to the South of England to start a new life. We will give you a fair and reasonable quote for every single job that you need carried out.
A Nice and Easy Day
Wouldn't it be fantastic to turn up at your new home feeling relaxed and raring to go in your new life? This is something that can only be achieved by getting a home removals service that you trust to get the work done without any hassle.
On the other hand, what you really want to avoid is turning up in your destination feeling shattered after a long day of lifting heavy furniture. If you try it and do it all on your own or choose an unreliable man with a van then this is exactly what could happen.
Don't take any chances with your health and your anxiety levels when you are planning a move from your current home in Fife. By letting us handle your house removals you can get a nice and easy day that you get through without any problems or nasty surprises.
Why not give us a call and find out how easy and cost effective it is to let us handle everything from small and local student removals to big nationwide moves?
Call for a fife home removal quote 07730263353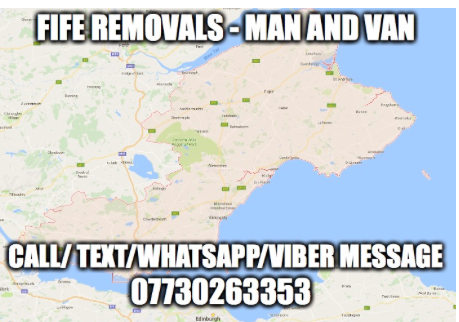 ---
---