Student Removals Edinburgh
Student Removals Edinburgh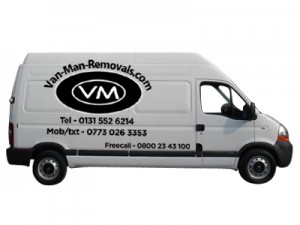 Looking for professional Student movers at a budget price? Van Man Removals is right here to be your helping hand!
Van Man Removals offers fast, efficient and highly affordable student removals services in the Edinburgh area. All students who are seeking assistance to move their important possessions, including, but not limited to their books and documents, laptops, PC, personal belongings and baggage can reach us anytime and we will be more than happy to help them relocate to a new place and embark yet another success journey without any stress. We understand the fact that money may be a matter of concern for you, and hence offer affordable, simple, and unique solutions to help you relocate without splurging your precious bucks.
We are committed to provide friendly and trustworthy student removals to assist students get their belongings moved to new destination on time and within budget. We are also able to provide you a safe storage space to keep your belongings temporarily- you can go ahead with house-hunting or take a break before actually moving to your new place, we'll keep your important goods and devices secured till the time you want at pocket-friendly prices.
About Van Man Student Removals Edinburgh
The Van Man Removals has been offering quality man with van moving service in Edinburgh since 2004 and continues to do so. We can provide advice on what's the best for your storage & removal needs and also which is the ideal storage facility for the price you can pay in Edinburgh. We give impartial advices & our quotes are highly competitive for an experienced & insured professional removals company.
Kerb to Kerb Removals for students
Our lowest cost move is the Kerb to kerb removal – This means you have it ground level or on street level outside ready for collection and its loaded onto van then taken to destination and left at street level or in stairwell, this is good for the amount of volume a Edinburgh taxi would refuse, we get lots of calls from students saying the taxi refused.
The kerb to kerb removal service only applies to within the city centre area, not long distances – we usually only book kerb to Kerb jobs on the day if we are AVAILABLE or 24-48 hours in advance.
Local Student Removals from £30 (Terms Apply)
This is valid only city centre area only 1.5 miles of Edinburgh University
kerb to Kerb, small volume, 1 persons goods only)
Before calling use this simple checklist (Questions we ask)
1. Date of move
2. Both Addresses and floors involved.
3. Rough inventory of whats being moved.
4. Any other detail about times, keys, access issues.
Note – We cannot quote if you do not provide these details.
Working 7 days a week, we are flexible to cater to the needs of student relocation and short-notice moves. It is to be noted that our vans are clean, modern, and come fully equipped to be used only for Removals. You can drop the worry of safety of your possessions and move ahead with us stress-free!
So, why hire a moving van when you can hire a man with a van (extra driver/helping hand) for more or less the same price that you'll pay for a van rental in Edinburgh? Forget about deposits and all the hassle involved with a van rental agency – get in touch with Van Man Removals- give us a call at 07730263353 or fill our contact form to get dependable student removals.